Working in a Draft.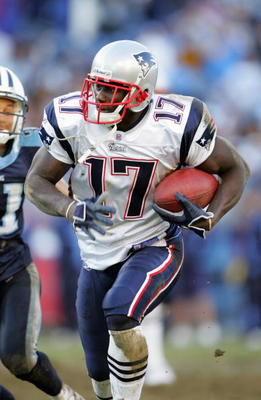 Fortunately, as you and your family grow, times change and activities differ. Unfortunately, priorities change and some things have to give. This year, for the first time since the NFL Draft became the in thing for fans, this writer pulled a Minnesota Vikings move and was not totally prepared.
"This Saturday?" was my response when inquired about what I thought the Patriots would do with their first pick, Number 21 overall. That is when I realized where I was: Lost City. Family and work obligations had become overwhelming, and I had stacks of draft paraphernalia and Boston Globe sports sections still left to read and digest in the to-do pile.
Last week, everyone was all in a buzz getting ready for Saturday. The information on the players had been out there for some time, and mock drafts were plenty. You have to admit, this years Selection Sunday (didn't the draft used to be on Sunday, way back?) was filled with intrigue and mystery. It turned out to be quite the affair, with players dropping and unconventional picks and moves made all over the place! For the first time in history, the New York J-E-T-S did the right thing and chose building blocks before a marquee player, and this time a QB, the grand daddy of them all. Let the Giants have the Back Page with Momma Eli and big boy Jeremy Shockey. Big city headlines aside, year after year the first round gets harder and harder to predict, as the wealth of information increases.
Generally, I would have had several mock drafts done myself, even one year dreaming about what would occur if the Patriots had every pick! Top Ten's, Last Five's, all of the ins and outs checked out backwards and forwards. 2006 was not meant to be, however. Something just kept moving to the top of the priority list, like the Patriots popping up in front of Denver to snake Chad Johnson, WR, Florida. Everyone hates when that happens, right? This year, it just kept up repeatedly, leading to surreal time evaporation and non-preparedness. How can someone who knows who the 2004 "Patriots Fan of the Year" is not be resourceful enough to have a clue that their first pick turned up a Big-10 Running Back? In years past, it would have been inconceivable.
Even not seeing, or hearing in this case, New England's actual pick had a bearing on the Total Football Experience. Driving home from work, combined with a drop off, non-pickup of a daughters swimming lesson, "the Commissioner stepped up to the podium". After all, I was going to hear the pick live. Radio can be very cool, sometimes even more suitable than TV because it leaves more to your imagination, understanding fully we are talking about a NFL Draft here. Crudely, the cell phone rang and the imperfect storm struck again.
Now the catch-up has begun. Able to trade-up with some very willing partners (the kid up the street to rake, my own children to play real pick-up-sticks, a loving and dear wife who understands what a hobby is all about, a truly understanding boss) the "value", and "best player available" method was used to obtain the Number One guy on the board: Father Time.
What an experience the whole draft was. Reading about it afterwards, without the normal and expected prep time under my belt, was an eye-opening ordeal. Accomplishing this every year may reap rewards, in another stratosphere for sure. The opportunity will surely present itself again, with life flying by faster than a Matt Leinhart dollar bill. Tonite is Yankees-Red Sox again – my goodness!